Free delivery on orders from €500,-

Ordered before 17:00, same day shipment
KNOWLEDGE BASE POUCHDIRECT
Quick answers to your questions about sustainability, finishing options, printing techniques, difficult terms, materials, etc. Do you miss anything? Let us know! The world of packaging continues to develop and so does our knowledge base. Check this page regularly and stay up to date!
GLOSSARY
The world of packaging is full of technical terms and concepts that are not clear to everyone. In order to eliminate ambiguities, we have compiled an extensive list of terms. This is how easy it is. This list of terms will be updated from time to time on the basis of developments and/or questions from our customers.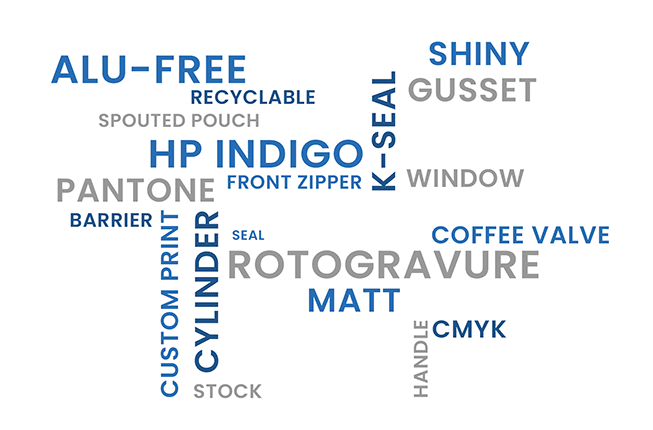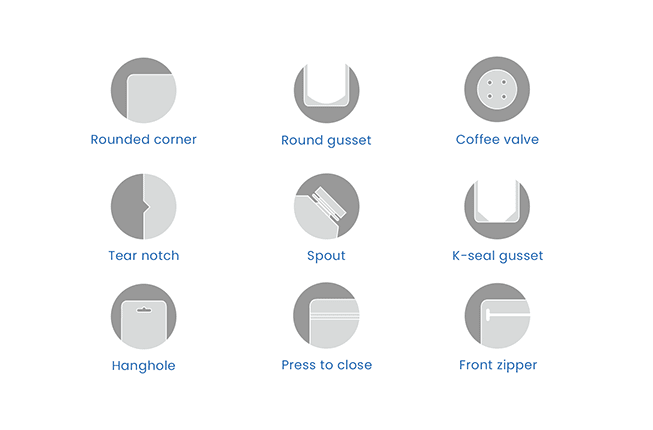 FINISHING OPTIONS
Everyone wants the best possible packaging for their product. Finishing options play an important role here. At PouchDirect you choose your preferences: matte or glossy finish or a combination of bottom type, window, hanghole, zipper, rounded corners, a unique anti-wobble bottom, hot stamp, paper touch varnish, with or without valve, etc. We can help you make the right choice.
SUSTAINABILITY
We like to tell the honest story and want to give a good insight into plastic recycling, biodegradability of different materials, also what you can or cannot compost, so you can choose what suits you best. For example, the term 'bioplastic' is often used by the public and in the media. The term 'bioplastic' refers to the origin of a plastic or to its biodegradable character. These two aspects are not equal and therefore the term 'bioplastic' is very confusing.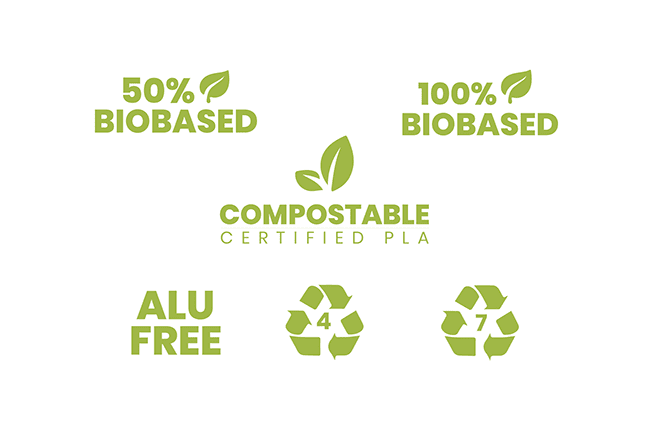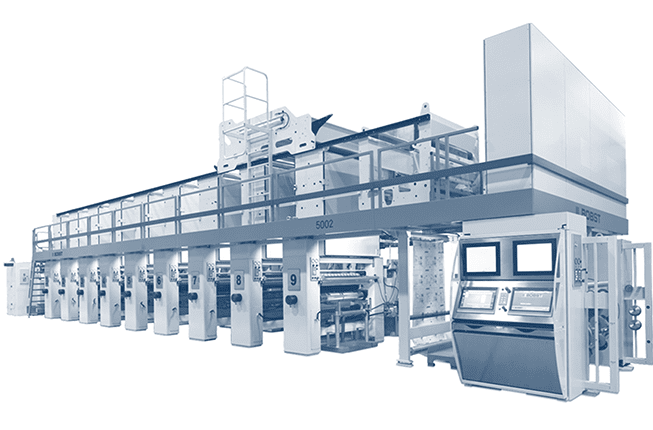 ROTOGRAVURE PRINTING TECHNOLOGY
Rotogravure printing is a high quality printing method for large quantities. The rotogravure printing technology gives a razor-sharp final result. Usually with Pantone colours, but also with CMYK colours, whereby each colour of ink is applied through its own source cylinder.
The features:
Low price per unit
From 10,000 pieces per size
Reuse of cylinders for repeat orders
Many finishing options possible
The higher the number, the lower the price
Delivery time ± 12 weeks
DIGITAL PRINTING
Digital printing technology allows quick production of small numbers with multiple designs. This solution is less economical than the rotogravure printing technique, but offers many advantages.
The benefits:
Multiple designs and sizes possible (MOQ 10,000 total)
No cylinder costs
Delivery time ± 6 weeks
More professional look*
Flexible & fast
Same finishing options as rotogravure
* Compare this price to the cost of pouches finished with two labels. Labels cost € 0.10 to € 0.25 per piece excluding labour for placing the labels.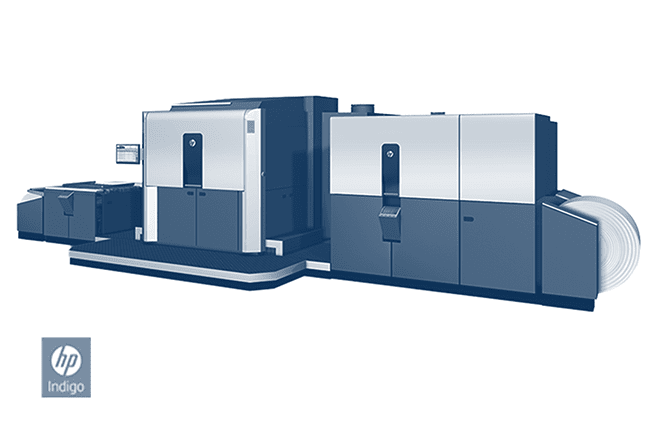 MATERIAL OPTIONS
A stand-up pouch consists of several layers of materials. Material options depend on the product the pouch is filled with in combination with the desired look. After all, the packaging determines 50% of the sale.
The outer layer determines the look, the middle layer determines the protection (barrier) for your product and the inner layer determines the thickness of the pouch. Our materials all comply with the legal European requirements for food as laid down in Regulation (EU) No 10/2011 plus amendments to Regulation (EU) No 2020/1245, Regulation (EC) No 2023/2006 and in Regulation (EC) No 1935/2004.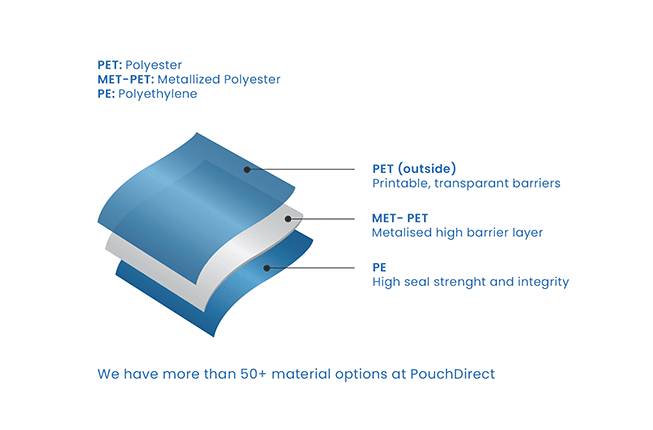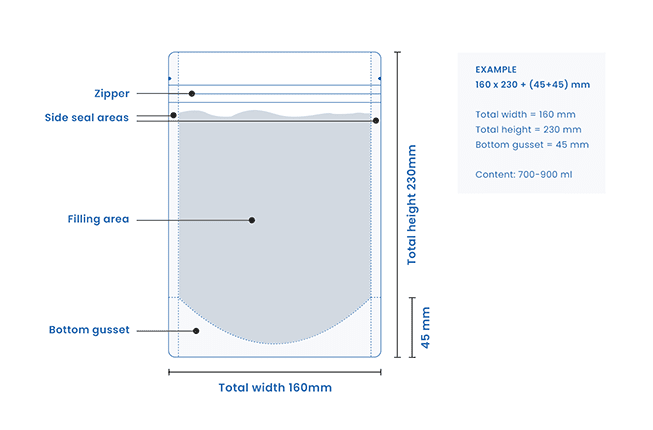 WHAT SIZE DO I NEED?
The volume of 500 grams of feathers is of course not the same as the volume of 500 grams of coffee beans. To make sure you choose the right size for your product, you can use a measuring cup to determine the volume of your product in milliliters (ml). Place product in a large measuring cup and read off the volume in milliliters. This volume determines the size of your pouch. If you still have doubts, please request a free sample or contact us.